Refrigerant Compressed Air Dryers
Air treatment is a prerequisite wherever clean and dry compressed air is required. It is a necessity for critical applications such as those found in the medical, pharmaceutical, food, and beverage sectors. It is also very important for any application that relies on compressed air as part of the production process. Compressed air is saturated with water as well as other atmospheric contaminants in addition to dirt and oil. Untreated compressed air not only adversely affects the end product being manufactured, but also jeopardises the integrity of associated components, equipment, and processes.
To effectively and energy efficiently meet the requirements for dry compressed air, CompAir has developed the CD series range of refrigerant compressed air dryers. Reliable, efficient, and environmentally friendly removal of moisture, oil, and moisture-borne contaminants from compressed air is possible with the CD series. The CD series of refrigerant compressed air dryers from CompAir are easy to install and simple to connect. The CD-Series refrigerant dryers also provide consistently high performance with optimum efficiency for many industrial compressed air applications.
They are carefully selected depending on working conditions with continuous dewpoint monitoring enabling reliable operation with the lowest possible pressure losses and running costs.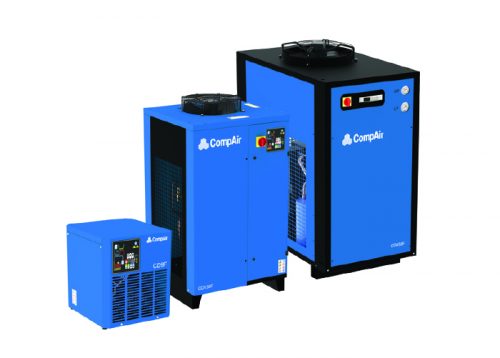 Your benefits at a glance
• High quality heat exchanger with low pressure loss
• +3°C pressure dewpoint
• Low operating costs
• Environmentally friendly R134a and R407c refrigerants
• Effective condensate separation
• Minimum space requirement due to compact dimensions
• Easy to install, operate and maintain
A full range of dryers from
CD4F to CD1920F
0.42 m3/min – 192 m3/min
(14 cfm – 6780 cfm)
For CompAir CD-Series – Technical Data

CD4F to CD1920F
Please View The Brochure Below: