L-TV Series 149-410 kW
Variable Displacement Rotary Screw Compressors
The L-TV series variable displacement rotary screw compressors from 149 to 410 kW, uses a unique variable displacement technology to match compressor output to compressed air demand. This patented TurnValve design introduced over 25 years ago, maximizes compressor efficiency by compressing only the volume of air required, without affecting the built-in compression ratio at partial load conditions.
The TurnValve displaced inlet throttling technology is the most efficient means of compressor capacity control, eliminating wide pressure fluctuations and massive storage requirements required when using other methods of capacity control.
Unlike variable speed drive systems and sophisticated control units, the TurnValve variable displacement system is simple and reliable, capable of performing in extreme conditions.
With energy costs accounting for approximately 80% of the lifetime cost of a compressor, its reassuring to know that with the L-TV series variable displacement rotary screw compressors, you can reduce your energy costs by up to 16%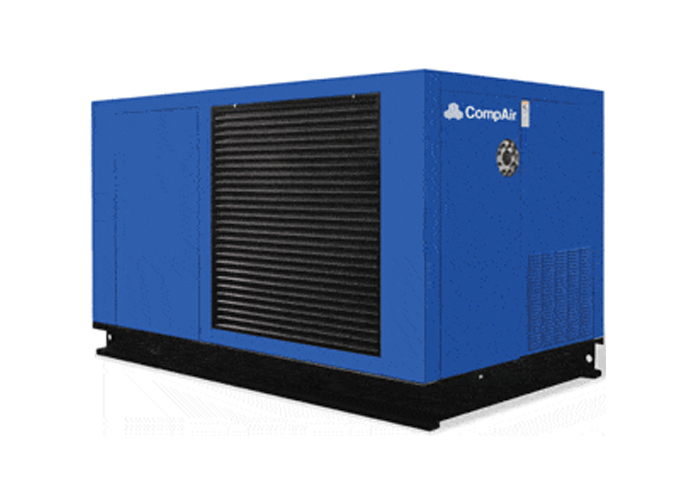 Proven reliability
All the way from 60% to 100% capacity, the L-TV variable displacement rotary screw compressors performance is the most consistent, delivering the "ideal" performance curve.
Reduced energy costs
The LT-V series patented TurnValve is the most efficient partial load capacity control system in the industry. By coupling it with the highly efficient KyphoTM rotor design, you can reduce energy costs by as much as 16%
Maximum efficiency
Up to 41% larger, the air end in the L-TV variable displacement rotary screw compressors, operate more slowly and efficiently than smaller, gear-driven types. The resulting efficiency benefits include; reduced air blow back, reduced lubricant drag, smaller leakage areas.
Service friendly
Maintenance personnel love the L-TV series variable displacement rotary screw compressor range. Filters are easily accessible and no piping needs to be disconnected to service the separator.
  Compressor Model
Motor Rating
Free Air Delivered
(m3/min)
Dimensions (mm)
LxWxH
Noise level** 
dB(A)
Weight
(kg)
kW
hp
7 bar g
8 bar g
10 bar g
  L150TV
149
200
26.2
24.6
18.2
3150 x 1829 x 1880
77
3658
  L185TV
186
250
34.5
28.0
27.5
3150 x 1829 x 1880
77
3884
  L225TV
224
300
41.5
35.5
33.4
3150 x 1829 x 1880
77
3931
  L260TV
260
350
>43.2
41.5
35.2
3150 x 1829 x 1880
77
4875
  L300TV
298
400
56.5
52.0
45.0
4300 x 2180 x 2050
77
7200
  L335TV
336
450
62.0
56.5
4300 x 2180 x 2050
77
7200
  L375TV
373
500
69.0
62.0
56.0
4300 x 2180 x 2050
77
7850
  L410TV
410
550
–
68.5
61.5
4300 x 2180 x 2050
77
8200
*Measured and stated in accordance with ISO 1217 Annex C and Pneurop/Cagi PN2CPTC2 at the following conditions: Air Intake Pressure – 1 bar a (14.5 psi.a), Air Intake Temperature – 20°C (68°F), Humidity – 0% (dry), Cooling Water Inlet Temperature – 20°C (68°F), **+_3 dB(A) according to Pneurop/Cagi test code.
CompAir policy is one of continuous improvement and we therefore reserve the right to alter specifications and prices without prior notice. All products are sold subject to the Company's conditions of sale.
Our Happy Customers Gave Us An Average Of 5/5 Stars
Your generosity is hugely appreciated and it's people like you, doing little things like this that help keep our small schools afloat. So thank you so much for all of your help – I can't wait to pop outside (once the sun gets through the fog) and blow up the tyres pf our sports gear trolley!!!
Thanks very much for coming in and getting that job sorted not only on a Saturday but with such short notice, the team really appreciated that.
Ngati Tuwharetoa Geothermal Assets Ltd
Thanks for the compressor Darren.
We are blessed to have you just down the road!
I wanted to thank you for the detail you put on our invoices as it makes our job easier. Also the service received from our local branch is outstanding.
See our Air Compressors in action
How can we help
Call us on 0800 886 755 or if you'd like us to get in touch with you, please fill in this form and we'll get back to you ASAP.