A RS Range
Heat Regenerative Thermal Swing Adsorption Dryers
CompAir's range of heat regenerative thermal swing adsorption dryers – with an operating pressure of 4 – 13 bar g – use the thermal swing adsorption method of drying compressed air. This method increases operating efficiency by reducing purge air consumption.
To reduce the amount of purge air required, heat is added to assist the process. Two heater assemblies are strategically placed in each dryer column to heat the purge air, optimizing regeneration. The heaters are switched on after the column has de-pressurised to additionally reduce energy consumption.
The combination of dry purge air and heat, uses less energy to remove the water from the saturated desiccant bed than is consumed by purge air alone.
Pre- and after- filter are included with the A RS range adsorption dryers from CompAir.
Energy saving dew point control and an advanced energy saving electronic control system are both optional extras with this range of adsorption dryers.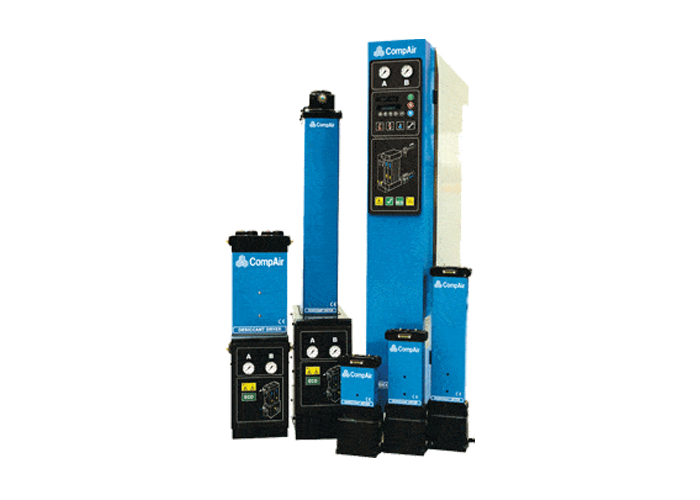 Increased operating efficiency
The thermal swing adsorption method increases operating efficiency by reducing purge air consumption.
High air quality
Delivered air quality is in accordance with ISO 8573-1 : 2010.
Consistent dew point performance
Continuous and consistent dew point performance are just two of the benefits realised with CompAir's adsorption dryers, thanks to the snowstorm filling technique used to charge the drying chambers with absorbent desiccant material.
Low noise level
With low noise levels, the CompAir adsorption dryers are ideal for point of use applications as well as in a compressor room.
  Type** 
Capacity*
m3/min
Dimensions mm
(W x H x D)
Inlet & Outlet
Connection
EN ISO 228-1
Design
Pressure
bar (g)
Weight
(kg)
Pre-filter
Type
After-Filter
Type
  A040RS
3.96
321
1578
717
G 2″
10.5
150
CF132G2″C
CF132G2″EHT
  A080RS
7.93
321
1578
947
G 2″
10.5
245
CF132G2″C
CF132G2″EHT
  A120RS
11.89
321
1578
1177
G 2 1/2″
10.5
325
CF240G21/2″C
CF240G21/2″EHT
  A160RS
15.86
321
1578
1407
G 2 1/2″
10.5
440
CF240G21/2″C
CF240G21/2″EHT
  A190RS
19.82
321
1578
1637
G 2 1/2″
10.5
565
CF240G21/2″C
CF240G21/2″EHT
Electric connection 415 V / 3 +neutral / 50 − 60 Hz
*) Relating to ISO 7183, A: 1 bar(a), ambient temperature +25°C, inlet temperature + 35 °C, saturated, at 7 bar g and pressure dew point − 25 °C.
**) Pre- and after filter are not factory mounted
Our Happy Customers Gave Us An Average Of 5/5 Stars
Your generosity is hugely appreciated and it's people like you, doing little things like this that help keep our small schools afloat. So thank you so much for all of your help – I can't wait to pop outside (once the sun gets through the fog) and blow up the tyres pf our sports gear trolley!!!
Thanks very much for coming in and getting that job sorted not only on a Saturday but with such short notice, the team really appreciated that.
Ngati Tuwharetoa Geothermal Assets Ltd
Thanks for the compressor Darren.
We are blessed to have you just down the road!
I wanted to thank you for the detail you put on our invoices as it makes our job easier. Also the service received from our local branch is outstanding.
See our Air Compressors in action
How can we help
Call us on 0800 886 755 or if you'd like us to get in touch with you, please fill in this form and we'll get back to you ASAP.