FXS Series 0.5-1.6 m3/min
Refrigerant Compressed Air Dryers
Ideal for low volume applications, the FXS series of refrigerant compressed air dryers from CompAir, produce pure, clean and dry compressed air from a simple, yet robust and sophisticated refrigerant dryer design.
Dependable high quality compressed air is assured with the FXS series thanks to excellent dew point performance under all conditions. These models are ideal for point of use applications such as in hospitals and laboratories as they are both quiet in operation and have a small footprint. A static condenser and waste heat recovery system further ensures an energy efficient solution with the lowest operating costs.
For flow capacities up to 1.6 m3/min the FXS series models are pure and simple!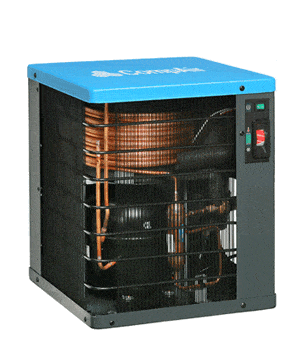 Low operating costs
With no noisy cooling fan the static condenser is virtually maintenance free and contributes to the low operating costs of the FXS series refrigerant compressed air dryers.
Compact & Quiet
With a compact design and low noise levels, the FX series are ideal for use in applications such as in hospitals and laboratories.
Simplified operation
The dimensions of the FXS series of refrigerant compressed air dryers are reduced through the use of a static condenser design. This not only eliminates the need for a cooling fan but also simplifies the refrigerant dryer operation.
  Model
Flow Capacity
m3/min(1)
Total Power
(kW)
Power Supply
(VAC 50hz)
Refrigerant
Type
Dimensions
(L x W x H)
(mm)
Connection
(Male BSP)
Weight
(kg)
  FXS05
0.5
0.2
230/1
R134A
382 x 320 x 320
DN15
20
   FXS10
1.0
0.3
568 x 368 x 394
DN20
32
  FXS13
1.3
0.4
568 x 368 x 394
DN20
32
  FXS16
1.6
0.6
568 x 500 x 500
DN20
44
The performance of the dryer (pressure dew point, power consumption, pressure drop etc.) depends mainly on the volume flow and pressure of the compressed air to be dried and the condenser refrigerant temperature.
(1)Measured and stated in accordance with ISO 1217 Annex C at the following conditions: Operating Pressure 7 bar, Air Intake Temperature 35°C, Ambient Temperature 25°C, Outlet Dewpoint 3°C.
Our Happy Customers Gave Us An Average Of 5/5 Stars
Your generosity is hugely appreciated and it's people like you, doing little things like this that help keep our small schools afloat. So thank you so much for all of your help – I can't wait to pop outside (once the sun gets through the fog) and blow up the tyres pf our sports gear trolley!!!
Thanks very much for coming in and getting that job sorted not only on a Saturday but with such short notice, the team really appreciated that.
Ngati Tuwharetoa Geothermal Assets Ltd
Thanks for the compressor Darren.
We are blessed to have you just down the road!
I wanted to thank you for the detail you put on our invoices as it makes our job easier. Also the service received from our local branch is outstanding.
See our Air Compressors in action
How can we help
Call us on 0800 886 755 or if you'd like us to get in touch with you, please fill in this form and we'll get back to you ASAP.
FXS Series 0.5-1.6 m3/min