C Range 5.5-7.6 m3/min
Portable Compressors
These proven and tested portable compressors from CompAir stand out for their low fuel consumption and high efficiency. Thanks to a wide pressure range up to 14 bar, this compact compressor range is extremely versatile and meets many requirements of numerous applications.
The C55-14 to C76, even have enough storage capacity for two hammers, picks or any other pneumatic tools!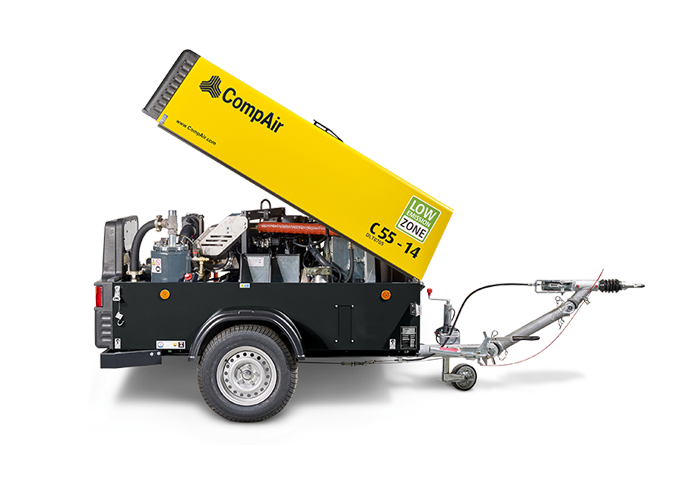 Extended engine life
Soft start extends the engine life time by reducing engine stress during start-up and allowing the engine to reach running temperature with the compressor unloaded.
Low noise emissions
These portable compressors come with a Cummins quiet-running and low vibration 4-cylinder diesel engine.
Long service life
Separate engine and compressor air filters guarantee a long service life. In addition, all service points are strategically located for easy access.
Product range
DLT 0704
Type
C55-14
C60-12
C65-10
C65HS
C76
Operational data
Volume flow1)(Optional 9 or 15 kVA Generator)
m3/min
5.5
6.0
6.5
6.5
7.6
Operating pressure
bar
14
12
10
7
7
Compressed air outlet
3 x 3/4″ + 1 x 1 1/2″
Engine
Cummins B3.3 TAA
Installed engine power
kW
63
Engine off load speed
1/min
1600
Engine full load speed
1/min
2600
Fuel tank capacity
l
140
Operating Weight2)
Portable compressor adjustable towbar braked
kg
1200
straight towbar braked
kg
1160
Base mount
kg
1070
Skid mount
kg
1100
Dimensions
Length adjustable towbar braked
mm
3760-3974
straight towbar braked
mm
3629
Width
mm
1700
Height
mm
1440
Length of canopy
mm
2205
Sound level
Pressure sound level3)
dB(A) LWA
99
Pressure sound level4)
dB(A) LPA
71
1)Acc. to ISO 1217 Ed. 4 2009 Annex D
2)Operating weight without options
3)Legal limiting values of EC directive acc. to 2000 / 14 / EC
4)Noise level acc. to PNEUROP PN8NTC2.2 at 7 m
Our Happy Customers Gave Us An Average Of 5/5 Stars
Your generosity is hugely appreciated and it's people like you, doing little things like this that help keep our small schools afloat. So thank you so much for all of your help – I can't wait to pop outside (once the sun gets through the fog) and blow up the tyres pf our sports gear trolley!!!
Thanks very much for coming in and getting that job sorted not only on a Saturday but with such short notice, the team really appreciated that.
Ngati Tuwharetoa Geothermal Assets Ltd
Thanks for the compressor Darren.
We are blessed to have you just down the road!
I wanted to thank you for the detail you put on our invoices as it makes our job easier. Also the service received from our local branch is outstanding.
See our Air Compressors in action
How can we help
Call us on 0800 886 755 or if you'd like us to get in touch with you, please fill in this form and we'll get back to you ASAP.