Ultima
Oil Free Variable Speed Centrifugal Compressors
Ultima™ is a groundbreaking oil-free PureAir screw compressor with a unique design. It is a brand new compressor range and it utilises a low pressure and high pressure dry screw airend. Each airend is individually driven by a variable speed, permanent magnet synchronous motor, offering exceptional levels of efficiency versus traditional oil-free technology.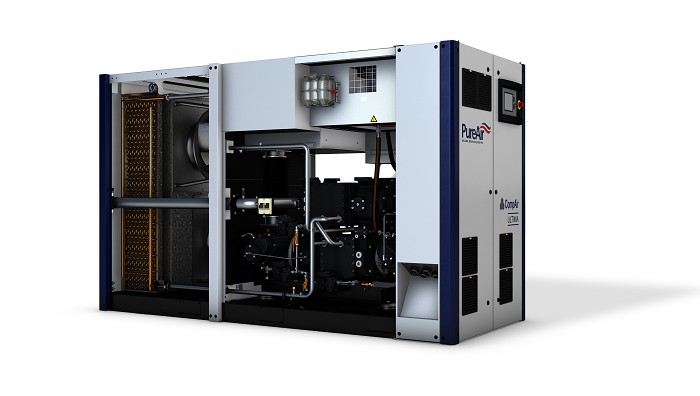 Considering that the highest cost in the lifecycle of a compressor is the energy to run it, the unique design of Ultima has allowed us to combine the ultimate performance with the ultimate efficiency, and still deliver a footprint 37% smaller than a conventional two-stage oil-free compressor. This allows easy installation in the smallest possible space – more than a benefit where space is limited – it is a real property cost saving.
Ultima compressors are 100% oil and silicone-free and meet ISO 8573-1 Class Zero (2010), making them the ideal choice for stringent oil-free applications within food and beverage, pharmaceutical, electronic and the automotive industries. What makes this compressor series unique is the lack of a gearbox. Ultima uses ultra high efficiency direct drive motors which replace the gearbox and the single motor, which optimise performance throughout the complete volume range, as the airends can be driven at different speeds dependant on the demand. With a single motor driving both airends together this is not possible. This is where Ultima is hard to beat.
The Ultima utilises an intelligent "digital gearbox" design, which continuously monitors and independently adjust the speeds of each airend, ensuring maximum efficiency and pressure ratios at all times. When any regulated speed compressor gets to the minimum speed, it goes into idle run. For any compressor, this is wasted energy. Ultima uses 45% less energy in idle run than a conventional two-stage compressor and a 160kW compressor uses only 8 kW in idle run.
It is available with iConn remote monitoring. iConn is the all new and smart, proactive real-time monitoring service that delivers in-depth and real-time knowledge on the system to our compressed air users. It enables accurate production planning and total peace-of-mind protection, generating insight and statistics that keep users informed on performance, at the same time highlighting potential issues before they become a problem.
It's compact, low maintenance, high capacity, and exceeds industrial expectations.
100% oil and silicone free – Highest levels of air quality
Highest efficiency levels – Low running costs
Low noise design – Installation at point of use
LP & HP airends individually driven – Energy efficient across the flow range
Very efficient heat recovery – Most efficient machine
Easy installation – No ducting required
On-board monitoring – Very user-friendly
Available with iConn remote monitoring – IoT connected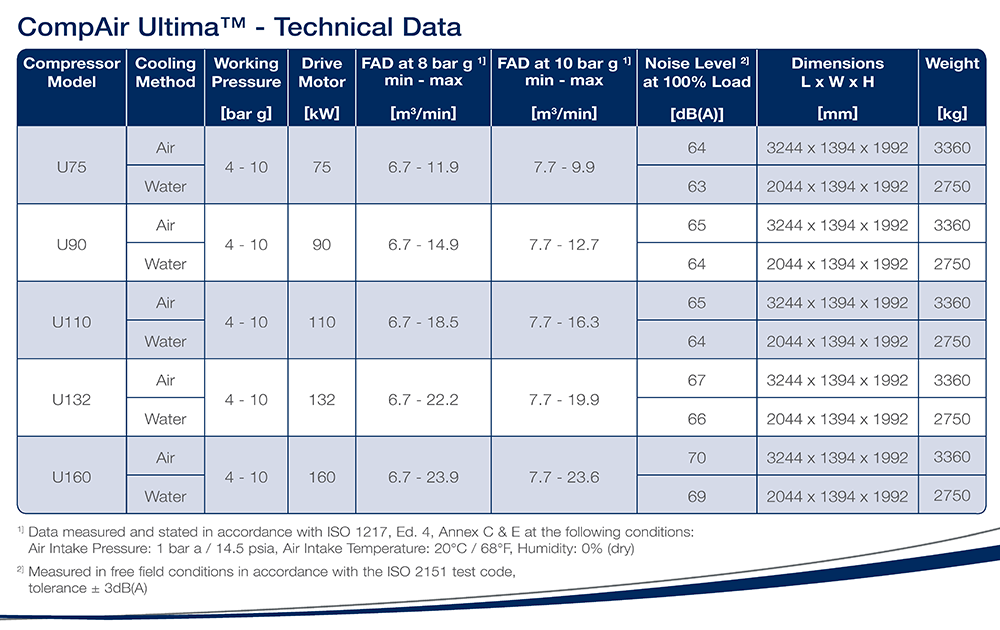 Our Happy Customers Gave Us An Average Of 5/5 Stars
Your generosity is hugely appreciated and it's people like you, doing little things like this that help keep our small schools afloat. So thank you so much for all of your help – I can't wait to pop outside (once the sun gets through the fog) and blow up the tyres pf our sports gear trolley!!!
Thanks very much for coming in and getting that job sorted not only on a Saturday but with such short notice, the team really appreciated that.
Ngati Tuwharetoa Geothermal Assets Ltd
Thanks for the compressor Darren.
We are blessed to have you just down the road!
I wanted to thank you for the detail you put on our invoices as it makes our job easier. Also the service received from our local branch is outstanding.
See our Air Compressors in action
How can we help
Call us on 0800 886 755 or if you'd like us to get in touch with you, please fill in this form and we'll get back to you ASAP.