SmartAir Master
Compressed Air Controller
Manage up to 12 compressors
The CompAir SmartAir Master compressed air controller, can intelligently control up to 12 compressors of any combination (fixed or variable speed) and will reduce energy consumption. This is achieved by tightening the network pressure to the smallest possible band, keeping off load running to the absolute minimum.
Demand responsive operation ensures that where varying capacity compressors are installed, only the correct combination of compressors are selected to meet the system demand, resulting in maximum energy savings.
Where compressors of the same capacity are installed, the compressed air controller sequencer will equalize the running hours, offering even greater savings by optimising the service intervals.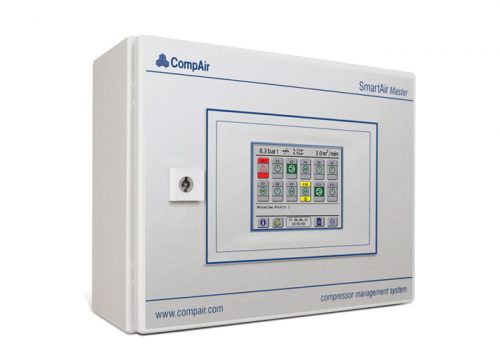 Maximised energy & cost savings
By reducing off-load times to a minimum and operating all the system compressors to the narrowest pressure band, maximum energy and cost savings can be achieved.
Transparent & flexible operation
This compressed air controller features an extremely user friendly and fully self explanatory large colour graphics, touch screen display which provides a quick overview of the compressed air supply and connected compressors at any time as well as; network pressure, pressure range and compressed air consumption, individual status display of each compressor connected, fault and warning messages and much more!
Simple to install
With low cabling costs and using a data cable with a "bus structure", the CompAir SmartAir Master compressed air controller is simple to install.
Complete compressed air system controller
For a complete compressed air system controller, accessories such as dryers, filters and condensate drains can be easily connected to the CompAir SmartAir Master, either directly or to an extension module.
Electrical Connection
EMC Conformity
System
1~/N/PE
Emissions
DIN EN 61000-6-3
Voltage
110/230V +/- 10% 50/60 Hz
Interface suppression
DIN EN 61000-6-2
Display
Housing
Type
Colour graphics display with touch information
Dimensions (W x H x D)
380 x 300 x 155 mm
Screen size
5.7″
Design
Steel plate housing
Interface
Type of protection
IP54
Analogue inputs
2
Weight
11 kg
Digital inputs
3
Scope of Supply
Relay outputs
2
SmartAir Master, including cable glands
Memory card
Network pressure sensor
Type
SD card
Set of plugs for connecting to compressor controllers
Connection for compressors
SD card
Quantity
max. 12 Compressors
Documentation
Interface
RS485
Options
Distance from SmartAirMaster
max. 1200 m
Compressor module(STD)
For connecting standard external compressors
Protocol
ModBus-RTU or PROFIBUS (optional)
Compressor module(VSD)
For connecting speed-controlled external compressors
Permissible ambient temperatures
Extension module

For extending the programmable inputs/outputs

Operations
0 to 55oC
PROFIBUS module
For connection to a PROFIBUS network
Storage
-25 to 75oC
CompAir policy is one of continuous improvement and we therefore reserve the right to alter specifications and prices without prior notice. All products are sold subject to the Company's conditions of sale.
Our Happy Customers Gave Us An Average Of 5/5 Stars
Your generosity is hugely appreciated and it's people like you, doing little things like this that help keep our small schools afloat. So thank you so much for all of your help – I can't wait to pop outside (once the sun gets through the fog) and blow up the tyres pf our sports gear trolley!!!
Thanks very much for coming in and getting that job sorted not only on a Saturday but with such short notice, the team really appreciated that.
Ngati Tuwharetoa Geothermal Assets Ltd
Thanks for the compressor Darren.
We are blessed to have you just down the road!
I wanted to thank you for the detail you put on our invoices as it makes our job easier. Also the service received from our local branch is outstanding.
See our Air Compressors in action
How can we help
Call us on 0800 886 755 or if you'd like us to get in touch with you, please fill in this form and we'll get back to you ASAP.