SmartAir Lite
Compressed Air Controller
Manage up to 4 compressors
The CompAir SmartAir Lite compressed air controller is a total system solution designed to control up to 4 fixed speed compressors in order to achieve the highest level of compressed air system efficiency.
Did you know that energy accounts for up to 80% of the total cost of owning a compressor? And, did you realise that in compressed air systems where individual compressors run without a central control, between 10 to 50% of energy could be wasted?
No matter how large or small the compressed air system, with energy costs rising, optimising energy usage and energy efficiency in any compressed air system using multiple compressors is essential.
To achieve the highest levels of system efficiency, the SmartAir Lite compressed air controller takes control of the overall system pressure band and reduces it to the lowest operating point whilst optimising and managing the compressor selection.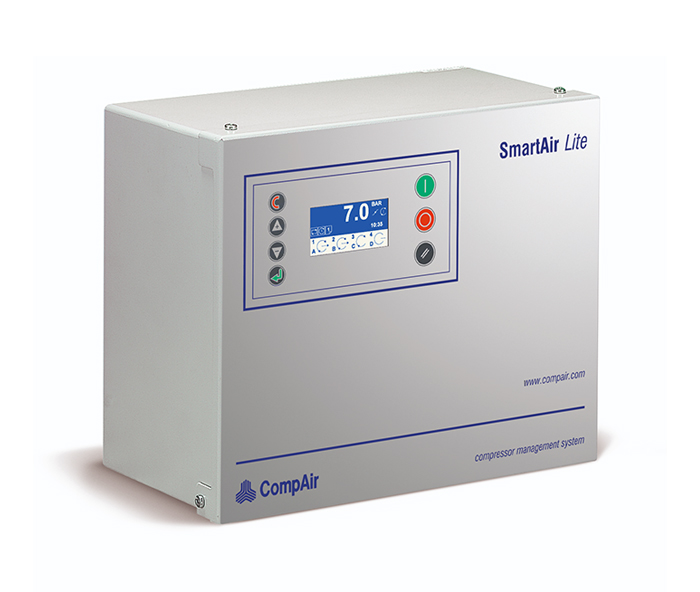 Optimised energy usage
By optimising energy usage and energy efficiency, it is possible to generate savings of up to 30% with the SmartAir Lite compressed air controller.
Compatible with multiple compressor makes & models
The SmartAir Lite compressed air controller is compatible with multiple compressor makes and models. Installation is simple for non CompAir machines with only one i-PCB.
Transparent operation
System set up and operating modes can be seen and changed via the clear and easy to use LED display.
Flexible operation
When different pressures are required to suit individual processes, the SmartAir Lite can be pre-programmed to adjust the system pressure and reduce energy. There are three pre-programmed operation modes available; FIFO (first in first out), equal running hours and timer rotation.
Electrical Connection
EMC Conformity
Voltage
230Vac +/- 10% 115Vac -/+ 10%
Emissions
DIN EN61000-6-4:2007
Approvals
CE, UL, cUL
Interface suppression
DIN EN61000-6-2:2005
Functionality
Housing
Display
128 x 64 graphical back lit LCD
Dimensions (W x H x D)
286 x 236 x 152 mm
Processor
16 bit ST 10 Micro processor
Protection Type
IP 54 NEMA12
Modes of Control
First in first out, Equal hours, Timer rotation
Weight
6.4 kg
Features
Pre-fill, Sequence rotation, priority settings,


..

pressure schedule, real time clock
Mounting
4 x fixing screws, wall mount
Interface
Scope of Supply
Digital inputs
1 x Menu selectable single function digital input
SmartAir Lite
Digital outputs
1 x Menu selectable single function digital output
Pressure sensor
Compressor Connection
Set of cable glands
Quantity
Up to 4 Fixed speed air compressors
Set of connector plugs
Interface
2 x RS485 and i-PCB (I/O)
Options
Distance from

..

SmartAir Lite
RS485 1600 meters

..

4-20mA pressure signal cable: 100 meters
i-PCB
Ambient Conditions
Network gateways for modbus, profibus and devicement
Operation
Min. 0oC to Max 46oC
Humidity
Max. 95% RH
CompAir policy is one of continuous improvement and we therefore reserve the right to alter specifications and prices without prior notice. All products are sold subject to the Company's conditions of sale.
Our Happy Customers Gave Us An Average Of 5/5 Stars
Your generosity is hugely appreciated and it's people like you, doing little things like this that help keep our small schools afloat. So thank you so much for all of your help – I can't wait to pop outside (once the sun gets through the fog) and blow up the tyres pf our sports gear trolley!!!
Thanks very much for coming in and getting that job sorted not only on a Saturday but with such short notice, the team really appreciated that.
Ngati Tuwharetoa Geothermal Assets Ltd
Thanks for the compressor Darren.
We are blessed to have you just down the road!
I wanted to thank you for the detail you put on our invoices as it makes our job easier. Also the service received from our local branch is outstanding.
See our Air Compressors in action
How can we help
Call us on 0800 886 755 or if you'd like us to get in touch with you, please fill in this form and we'll get back to you ASAP.